Sweden Supports UN Resident Coordinator's Coordination and Innovation Capacity in Kenya
Sweden has announced a two-year support for coordination activities of UN Resident Coordinator in Kenya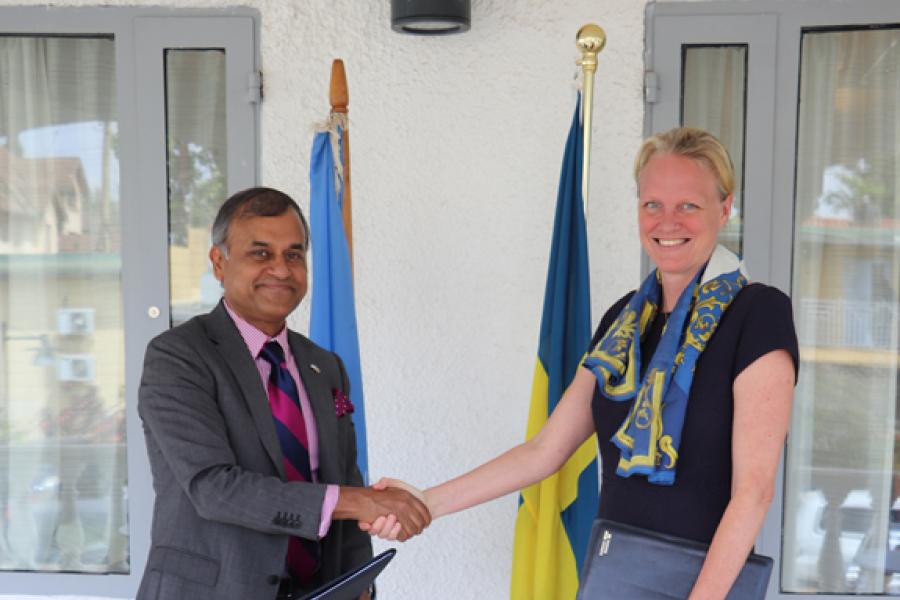 Photo | UN Kenya
The Government of Sweden has announced a new agreement, supporting the UN Resident Coordinator for a period of two years under the heading Reinvigorated UN Resident Coordinator's Office, as part of advancing the UN reforms implementation in Kenya.
"Sweden is a strong advocate for UN reform. This bridging support will enable the Resident Coordinator's office in Kenya to spearhead the UN reform at country level, maintain current capacity and advance transformative and repositioning work, for greater impact and sustainable development results," said the Ambassador of Sweden Ms. Anna Jardfelt when she announced the support.
The Resident Coordinators Office capability to spearhead UN reform in Kenya, to lead and advance coordination, innovation and communication of results is essential for UN's effective delivery of the United Nation Development Assistance Framework, UNDAF (2018-2022)
The Framework was signed by Government of Kenya and 23 UN Heads of Agencies in 2018 and has an estimated budget of USD 1.9 billion.
Kenya's UNDAF has been identified by the Deputy Secretary General as one of three global best examples of new generations of One UN strategies at the country level.
The support by Sweden will among others advance the activities of the SDG Partnership Platform and the Kenya-Ethiopia Cross-border Program. The Platform is coordinating efforts to diversify development financing tools, invest in SDG data development and nurture public, private partnerships, across the SDGs and UN agency mandates.
The Cross-Border Programme between Kenya and Ethiopia is advancing the reform agenda on transformative peace and socio-economic transformation.
UN entities involved in this initiative
UNHCR
United Nations High Commissioner for Refugees
OCHA
Office for the Coordination of Humanitarian Affairs
FAO
Food and Agriculture Organization of the United Nations
IFAD
International Fund for Agricultural Development
UN-Habitat
United Nations Human Settlements Programme
ILO
International Labor Organization
IMO
International Maritime Organization
IOM
International Organization for Migration
WMO
World Metereological Organization
WHO
World Health Organization
UNEP
United Nations Environment Programme
UN Women
United Nations Entity for Gender Equality and the Empowerment of Women
UNIDO
United Nations Industrial Development Organization
UNAIDS
Joint United Nations Programme on HIV/AIDS
UNESCO
United Nations Educational, Scientific and Cultural Organization
UNFPA
United Nations Population Fund
UNICEF
United Nations Children's Fund
UNDRR
UN Office for Disaster Risk Reduction
UNODC
United Nations Office on Drugs and Crime
UNOPS
United Nations Office for Project Services
UNV
United Nations Volunteers