UN in Kenya Staff Contribute towards Solidarity Fund to support vulnerable Communities affected by COVID 19
funds to go towards supporting vulnerable children and youth in the informal settlements of Nairobi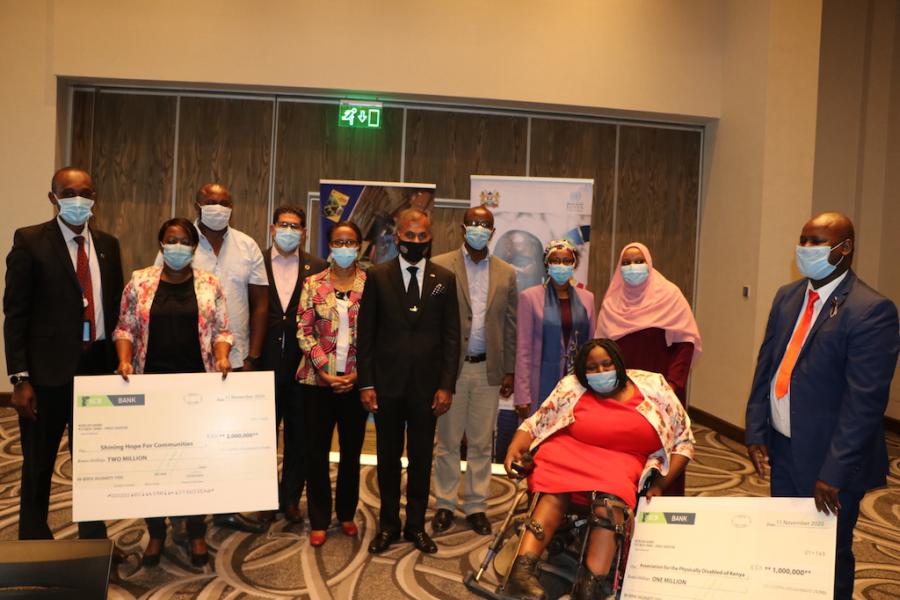 Photo | UN RCO
The COVID 19 pandemic has affected all sectors of the economy and has fundamentally disrupted the day-to-day lives of all people globally. It has however had a devastating impact on communities that were already vulnerable even before the pandemic. People with disability, women, children, refugees, and the poor have been hardest hit.
In a bid to show solidarity and support those in urgent need of care, the UN staff in Kenya came together and raised over $30,000 that would go towards supporting organizations that have identified cases that need immediate intervention.
 "Even though the UN staff are also affected in different ways by the pandemic, and supporting many other families at home, we found it necessary to contribute towards supporting this noble cause," said Siddharth Chatterjee as he presented the cheques to the Association for the Physically Disabled Kenya (APDK) and Shining Hope for Communities (SHOFCO) who are supporting the vulnerable in the informal settlements.
Children living with disabilities in the informal settlement of Nairobi were identified as most vulnerable and in urgent need of support as those who have conditions such as Autism, Cerebral Palsy, and Club foot, were losing the milestones that they had already achieved through rehabilitation. COVID-19 situation has made it difficult for the parents to take their children for therapy due to the closure of the facilities occasioned by the Government restrictions, while others had lost their jobs and livelihoods and could not pay for the therapy services.
"We appreciate the support that you have given us, as it will go towards assisting 80 children with disability attend therapy twice a week for one month," said
On its part, representatives of SHOFCO, who work with communities in the expansive Kibera slums, say the funds will go towards economic empowerment programs for youth and enhance water and sanitation facilities in the area.
Informal settlements are at high risk of COVID 19 infections as the areas are densely populated, weak health infrastructure, poor access to water, sanitation, and hygiene services
UN entities involved in this initiative
RCO
United Nations Resident Coordinator Office
UNDP
United Nations Development Programme