Kenya Embarks on a Countrywide COVID-19 Vaccination Supported by COVAX Facility
The Vaccines are part of the COVAX facility, which aims to provide equitable access to vaccines for all countries around the world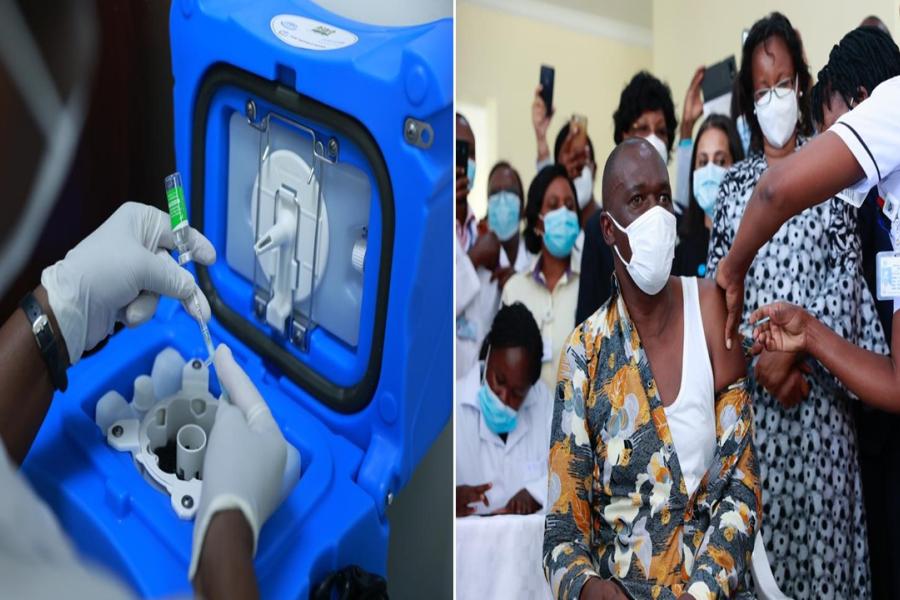 Photo | UNICEF Kenya
Kenya has received over 1 million doses of the AstraZeneca-Oxford COVID-19 vaccine and immediately launched a countrywide vaccination of its frontline workers. The vaccines were transported by UNICEF as part of the COVAX facility, which aims to provide equitable access to vaccines for all countries around the world.
While flagging off the vaccines to be distributed to all health facilities in the country, President Uhuru Kenyatta assured Kenyans that the vaccines are safe and effective, but cautioned against lowering the guard against COVID 19 during the vaccine roll out.
"I urge all Kenyans not to drop the guard, lets us not think that since the vaccines have arrived, life will resume normally, we have to continue protecting ourselves by adhering to the measures stipulated by the Ministry of health," the President said.
The UN Resident Coordinator Dr. Steven Jackson says the UN will support the Government to ensure no one is left behind in the distribution of the life saving vaccine.
"The goal of COVAX Facility is to redress the unjust imbalance global inequity to ensure that safe effective COVID-19 vaccines are rapidly available and affordable to all countries regardless of income level."
The World Health Organization has indicated that there will be no cost to Kenyans for the AstraZeneca vaccine and called on Kenyans to share verified and factual information on the vaccines
The Ministry of Health (MoH) has developed a deployment plan for the vaccines, with healthcare workers and other essential workers including security personnel, being offered the vaccine first.
The AstraZeneca-Oxford vaccine, which was manufactured by the Serum Institute of India and made available to the COVAX facility thanks to an advance purchase agreement between Gavi, the Vaccine Alliance, and SII, were procured and transported by UNICEF's Supply Division in Copenhagen. The first consignment of 1.02 million doses is part of an initial allocation to Kenya of 3.56 million doses. In addition, UNICEF is providing 1,025,000 syringes and 10,250 safety boxes to Kenya, via a global stockpile funded and supported by Gavi. However, Kenya already has enough in-country stocks of syringes and safety boxes for the first phase of vaccinations.vaccines and to encourage people to get the vaccine as it becomes available to them.
UN entities involved in this initiative
UNICEF
United Nations Children's Fund
WHO
World Health Organization
Other entities involved in this initiative
GAVI
GAVI, the vaccine alliance