United Nations Supporting Kenya's Post COVID-19 Industrial Recovery and Growth to Achieve Inclusive and Sustainable Growth
Kenya aims to attract more than USD 30 billion in manufacturing investments over the next 5 years by focusing on sectors with high growth potential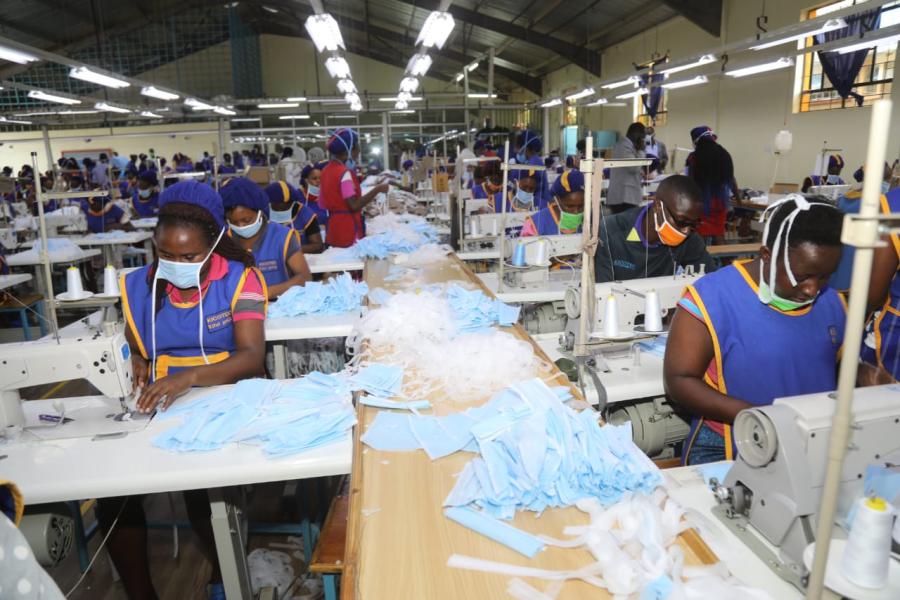 Photo | Council of Governors (COG)Kenya
As the COVID-19 pandemic threw global supply chains into disarray, the Kitui County Textile Center (KICOTEC) spotted an opportunity amidst the crises. KICOTEC rapidly shifted from its traditional business of manufacturing garments to making masks and personal protective equipment (PPEs) to meet rapidly rising demand. The factory not only met the urgent need for COVID prevention supplies but employed additional youth and women at a time when most companies were shutting down. KICOTEC's pioneering production of PPEs buttressed the textile and apparel sector, contributed to Kenya's economic recovery, and modeled local production of affordable, high-quality PPEs meeting local and international standards. 
Boosting domestic manufacturing is one of President Kenyatta's 'Big Four' priorities to steer Kenya to sustainable economic growth and 'Vision2030.' It has huge potential to attract investment, create employment, stimulate growth, and linkages to all other sectors of the economy.  KICOTEC's example, and many like it, show that however tragic and impactful the COVID-19 pandemic has been, it offers innovative opportunities too. 
To drive Kenya's post-COVID-19 industrial recovery and growth, the Government of Kenya requested the United Nations Industrial Development Organization (UNIDO) to roll out its "Programme for Country Partnership" (PCP) model in Kenya as a "self-starter country." PCP is an innovative approach supporting countries to accelerate inclusive and sustainable industrial development by focusing on sectors with high growth potential. It directly advances Sustainable Development Goal (SDG) 9: "Build resilient infrastructure, promote inclusive and sustainable industrialization and foster innovation." In addition, it strongly contributes to all the other 16 SDGs.
Achieving the 2030 Sustainable Development Agenda requires pooling resources and expertise, channeling public and private expertise,  encouraging public and private investments together towards high-growth industrial sectors. During the launch of the PCP,  President Uhuru Kenyatta remarked that Kenya aims to attract more than USD 30 billion in manufacturing investments over the next 5 years. "My Administration will continue to support establishing Industrial Parks and Special Economic Zones that will provide a competitive platform for industrial development. Kenya has the potential to develop Agro-processing facilities in 41 out of 47 counties that provide the opportunity for Kenyan goods and products to enter the largest global market with competitive products," he said
Kenya selected UNIDO's innovative PCP model after noting its success in Ethiopia and Senegal amongst PCP pilot countries in Africa.  In both countries, the PCP model aligns directly with national planning priorities to achieve larger development goals. As of 2020, Ethiopia had leveraged USD 1.8 billion through its PCP. There, purpose-built Integrated Agro-Industrial Parks (IAIPs) have been the main catalyzers of investments and partnerships. The four IAIPs have already created about 21,000 jobs, including more than a quarter for women. Almost 18,000 smallholder farmers have been supported with extension services, capacity building, market access, and technology transfers as well. 
As of 2020, Senegal's PCP had already mobilized more than USD 800 million in public and private investments. The Special Economic Zones (SEZ) reform and incentive packages developed with UNIDO's support has encouraged companies in Senegal to establish factories that have already created over 4,000 jobs.
Kenya's first anchor PCP project will be on a 280-acre parcel of land in Nyamira County. It will complement other current UNIDO projects targeting agro value chains, investment promotions in the textile, leather, energy and environment sectors. Other investment opportunities that are envisaged, include open information and communications technologies, digitalization, and the "green" and "blue" economies. The industrial zones will be backed with intensified initiatives on trade promotion, investment and quality infrastructure, research, and policy. Together, and inspired by the opportunities identified by KICOTEC and many companies like it, these efforts will drive Kenya's Post- COVID industrial recovery and growth.  
Come to think of it: as Kenya rolls out its National COVID-19 vaccinations (with UNICEF and WHO support), shouldn't the domestic production of PPEs inspire us to still greater heights of ambition? What is to prevent us together to building a domestic capacity to manufacture the COVID-19 vaccine and others like it, to future proof us against pandemics now and to come? A great opportunity to build our self-reliance and resilience! 
UN entities involved in this initiative
UNIDO
United Nations Industrial Development Organization
Goals we are supporting through this initiative