Switzerland Announces Support to RC Kenya
The Government of Switzerland announces support for ongoing UN reforms implementation in Kenya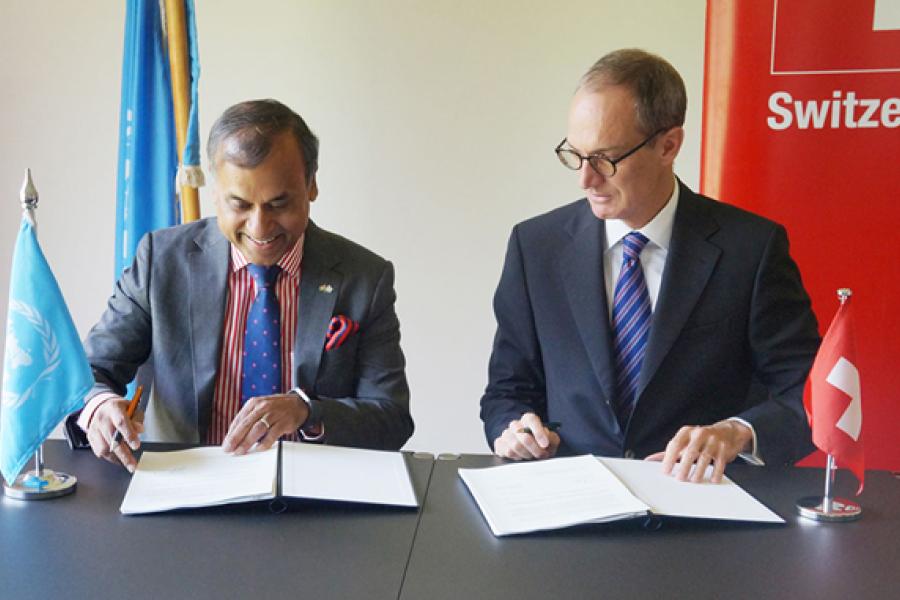 Photo | UN Kenya
The Government of Switzerland has announced support for the ongoing UN reforms implementation in Kenya through a two-year cost-sharing arrangement that will strengthen the capacity of the Resident Coordinator's Office, with focus on coordination of the integrated cross-border initiative and the SDG Partnership Platform, expanding partnerships and diversifying financial modalities for realising the SDGs.
Switzerland is one of the strongest supporters of the push for reforms in the UN development system and we acknowledge the leadership of the Resident Coordinator system in helping UN Country Teams to become much more field-focused, well-coordinated and accountable," said the Ambassador of Switzerland Mr. Ralf Heckner when he announced the support.
The Switzerland Government support will specifically strengthen the coordination of the ongoing cross-border initiatives between Kenya, Ethiopia and Somalia, whose objectives are to prevent and mitigate the impact of violent conflict in these borderland areas, and to promote economic development and greater resilience.
The United Nations Resident Coordinator Office supports the work of the UN country team in the UN's strategic response to the Government's development priorities as captured in the UN Development Assistance Framework (UNDAF).  The UNDAF describes how the UN country team will contribute to the achievement of development results based on a common country analysis and the UN comparative advantage.
Switzerland is also supporting the SDG Partnership Platform, a UNDAF flagship initiative that takes leadership on overarching facilitation, coordination and demonstration of how public private collaboration can effectively translate the SDGs into action on the ground and thereby guide and accelerate innovations, impact, maximize investments and optimize resource utilization in support of the realization of Kenya's Vision 2030 and the "Big Four".
UN entities involved in this initiative
OHCHR
Office of the United Nations High Commissioner for Human Rights
UNHCR
United Nations High Commissioner for Refugees
OCHA
Office for the Coordination of Humanitarian Affairs
UNDP
United Nations Development Programme
FAO
Food and Agriculture Organization of the United Nations
IFAD
International Fund for Agricultural Development
UN-Habitat
United Nations Human Settlements Programme
ILO
International Labor Organization
IOM
International Organization for Migration
WMO
World Metereological Organization
WHO
World Health Organization
UNEP
United Nations Environment Programme
UN Women
United Nations Entity for Gender Equality and the Empowerment of Women
UNIDO
United Nations Industrial Development Organization
UNAIDS
Joint United Nations Programme on HIV/AIDS
UNESCO
United Nations Educational, Scientific and Cultural Organization
UNFPA
United Nations Population Fund
UNICEF
United Nations Children's Fund
UNDRR
UN Office for Disaster Risk Reduction
UNODC
United Nations Office on Drugs and Crime
UNOPS
United Nations Office for Project Services
UNV
United Nations Volunteers
Goals we are supporting through this initiative