Story
The Government of Germany Invests €505,000 in UNDP Kenya to Support the Consolidating Democratic Dividends for Sustainable Transformation in Kenya Project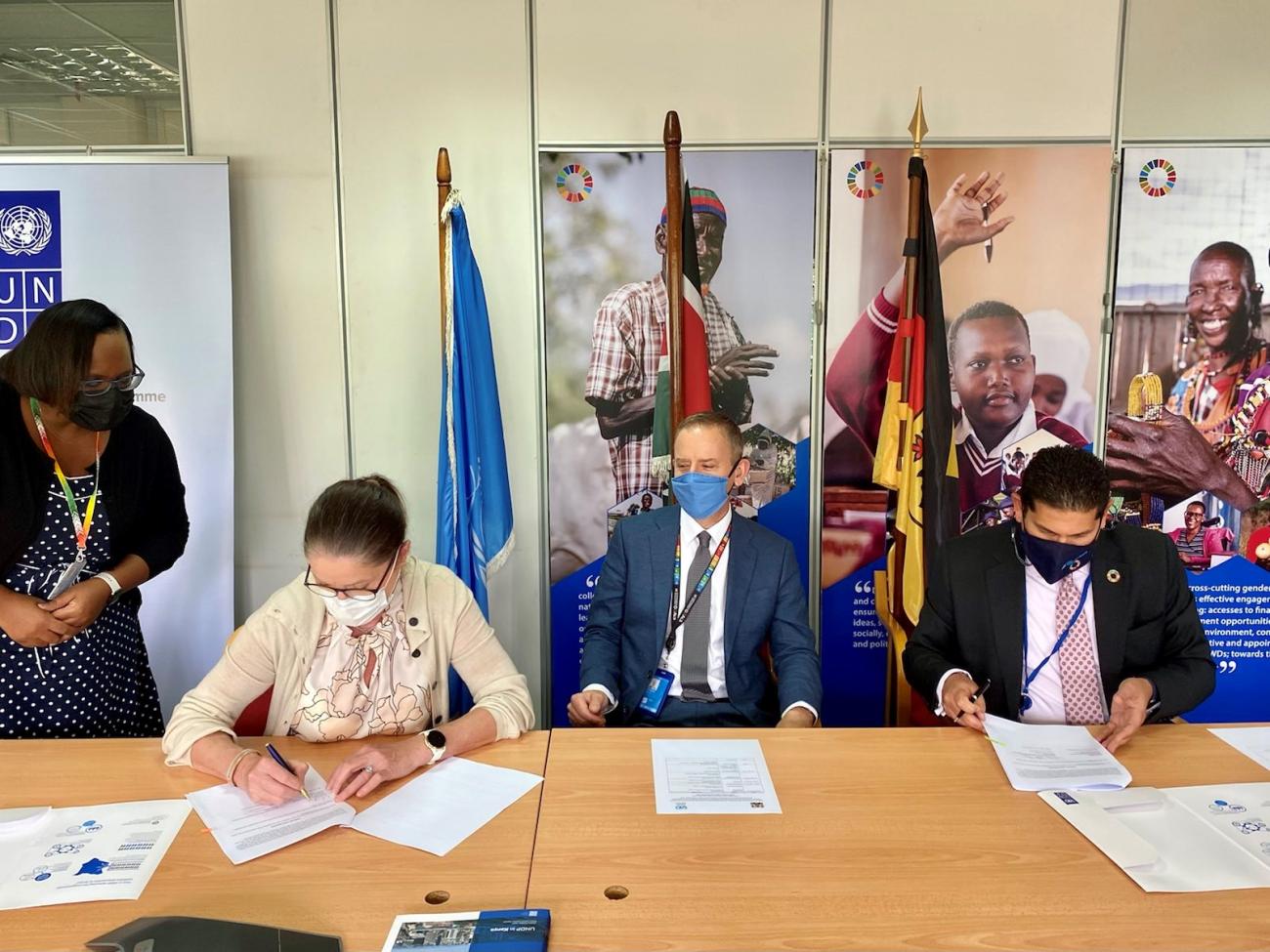 This project is working to support state action and citizen engagement towards realising improved democratic governance and accountability
Nairobi, 10th November 2021 – The United Nations Development Programme (UNDP) in Kenya in partnership with the Government of The Federal Republic of Germany have today signed a cooperation agreement to support the 'Consolidating Democratic Dividends for Sustainable Transformation in Kenya' project.
During the signing ceremony UNDP Kenya's Resident Representative Mr. Walid Badawi said: "This project is working to support state action and citizen engagement towards realising improved democratic governance, accountability, respect for the rule of law, access to justice, human rights, participation of youth, and gender equality."
The signing of the cooperation agreement comes at a time when national democratic governance institutions are working to deepen the democratic gains made in the last decade under the Constitution of Kenya (2010) through among others institutional strengthening and capacity building interventions to foster a sustainable conducive and peaceful environment. The project document was signed between the Government of Kenya and UNDP in May 2021 and officially launched in July 2021. It will be implemented from 2021-2023.
The United Nations Resident Coordinator Dr. Stephen Jackson noted the strong collaboration in the design of the programme that is anchored within the transformative governance pillar of the United Nations Development Assistance Framework 2018-2022, and stated that, "the project's implementation will benefit from the 'UN Delivering as One' approach through UNDP, the United Nations Entity for Gender Equality and Women's Empowerment (UN Women) and Office of the UN High Commissioner for Human Rights (OHCHR)."
To promote a strong degree of national ownership, alignment with national priorities, and sustainability, the project will ensure partnerships with key national institutions including the Ministry of Devolution, the main government implementing partner. As additional resources become available, further support is planned towards national institutions in the democratic governance space. Strategic partnerships are also planned with civil society stakeholders to foster maximum effectiveness and ensure a wider geographic footprint.
The Ambassador of the Federal Republic of Germany Annett Günther said: "I applaud the Deepening Democracy Program for its scope, as it attests to the ambitions of the partnership of the UN, the International Community and Development Partners with the Government of Kenya. This program is an important contribution to increase the capacities and strengthen Kenyan institutions and crucial actors for Kenya's democratic space at the right moment in time."
The project will be resourced through a multi-donor basket fund to allow the participation of multiple development partners. It has confirmed contributions from the European Union, the Federal Republic of Germany, and the United Kingdom and the UN in Kenya through UNDP, UN Women, and OHCHR.
Ends.
Note to Editors
About the Consolidating Democratic Dividends for Sustainable Transformation in Kenya' Project
The project is aligned to "Strategic Priority I - Transformative Governance" of the United Nations Development Assistance Framework (UNDAF) 2018-2022 for Kenya; AND (b) SDG Agenda with direct contributions to SDG Goal 5 on Gender Equality, SDG Goal 10 on reducing Inequality and SDG Goal 16 on Peace, Justice and Strong Institutions; and (c) the principle of "Leaving No One Behind". The project gives particular attention to supporting dialogue spaces, regular consultation with stakeholders to enable meaningful engagement and coordination among different institutions for better results. To enhance civic space, and citizen engagement in deepening democracy, project strategies and interventions will engage civil society, women, youth, and marginalized groups to enhance their participation in governance and democratic processes.
It aligns with Kenya's national and international commitments to ensure that the culture of constitutionalism is strengthened in Kenya, underpinned by improved governance, respect for human rights, and justice and rule of law system that is inclusive, accountable, and empowering especially to vulnerable groups. The project integrates a human rights-based and people-centred approach to support the engagement of communities and marginalized groups in governance. Project interventions, which will be undertaken in a phased approach which will focus on good governance and capacity development, and strengthening the capacity of governance institutions to enhance public accountability, gender equality, social inclusion, institutional coordination and stakeholder engagement through the following outputs: (1) Enhanced institutional capacity for inclusion, transparency, and accountability; (2) Dispute resolution by strategic governance institutions strengthened; (3) Strategic engagement on legal and institutional frameworks and stakeholder coordination for democratic consolidation; (4) Increased civic and media engagement and participation in governance processes for accountable service delivery; (5) Strengthened and coordinated human rights monitoring; (6) Enhanced capacity on security, risk management, and coordination; (7) Strengthened civic engagement women and youth participation in conflict prevention and peacebuilding.
About UNDP Kenya
UNDP is the leading United Nations organization fighting to end injustice of the poverty, inequality and climate change. Working with a broad network of experts and partners in 170 countries, we help nations to build integrated, lasting solutions for people and planet. UNDP has been operating in Kenya since 1966 and supports programmes under three priority areas towards national development priorities:
Governance, peace and security
Inclusive growth and structural transformation
Environmental sustainability, climate change and resilience
For more information about UNDP Kenya's activities and current updates follow our social media platforms:
Twitter: @UNDPKenya
Facebook: UNDP Kenya
Linkedin: UNDP KENYA
Website: https://www.ke.undp.org/content/kenya
For media enquiries please contact:
UNDP Kenya
Martin Namasaka
Head of Communications, UNDP Kenya
Email: martin.namasaka@undp.org
Mobile: +254731953944
Sheila Kimani
Communications Associate, UNDP Kenya
Email: sheila.kimani@undp.org
Mobile: +254 714 386306
Germany Embassy
@GermanyinKenya
UN entities involved in this initiative
UNDP
United Nations Development Programme