Cross Border Programme Launched in Karamoja Region
Kenya and Uganda sign MoU for peace and development in Karamoja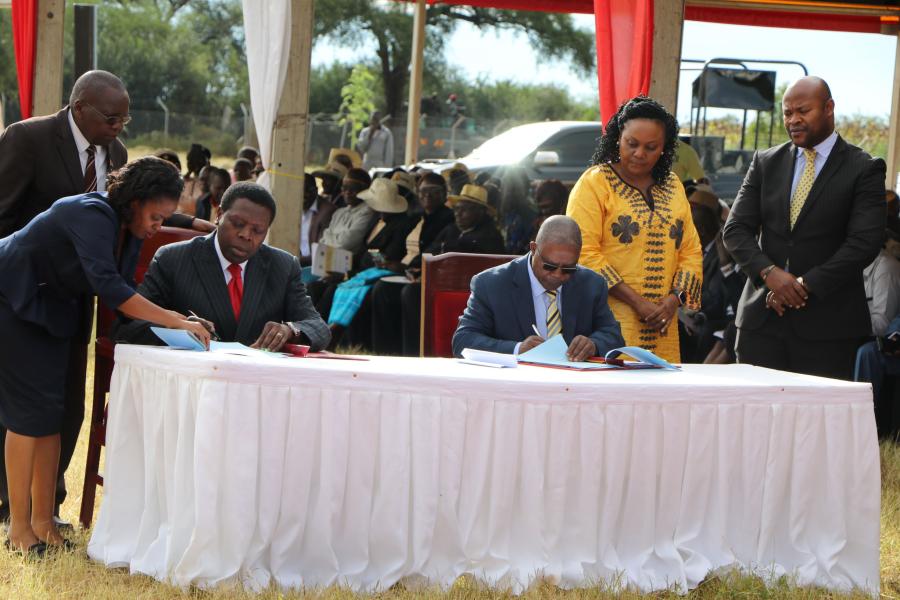 Photo | UN Kenya
Kenya's Devolution Cabinet Secretary Eugene Wamalwa and Uganda's Minister for Karamoja Affairs John Byabagambi on September 12 signed a Memorandum of Understanding to launch the programme for sustainable peace and development in the Turkana-Pokot-Karamoja region along the border of the two countries.
President Uhuru Kenyatta and his Ugandan counterpart Yoweri Museveni Thursday witnessed the historical signing of a peace deal, which was developed by the two countries with support from the Uganda and Kenya UN Country Teams.
"This agreement will help us ensure long-lasting peace for our people. It is not only about peace but sustainable development," said President Kenyatta.
"President Kenyatta understands the importance of unity in Africa. He has the best spectacles to see and know what is required for a good economy. We have lined up projects like cement, marble and gold factories in this region. We also have a honey and meat processing programmes here," said Mr Museveni.
Cabinet Secretary Eugene Wamalwa said the agreement was a clear indication of the positive direction the two countries were taking in promoting East African unity.
The border areas of Kenya and Uganda have, over the last four decades, been a major arena for a variety of conflicts, some of which are linked to wider cross-border and regional conflicts. The roots of these conflicts are the dwindling shared natural resources, with reduced access to land, water and other natural resources due to increasing demographic and environmental pressure.
The Joint Kenya-Uganda cross-border programme for sustainable peace and development is anchored on Sustainable Development Goals (SDGs) which are a universal call of action to end poverty, protection of the planet and ensuring peace and prosperity for all. The SDGs are a global commitment to ensure that 'no one is left behind' and that no goal is considered fulfilled unless   all goals are met.
The cross-border programme is specifically rooted on SDG 1, 2, 16 and 17 which are geared towards ending poverty, reducing hunger, promoting peaceful and inclusive societies for sustainable development and building partnerships for development.
It complements African Union's peace and Security Agenda of an Africa Wide "beyond borders initiative" and will draw lessons from the ongoing Kenya-Ethiopia Cross border initiative.
"Our two UN Country Teams have the persistency of purpose, the determination to continue as the sinews of peace, so that neighbour shall not be forced by socio-economic circumstance to rise against neighbour in the Karamoja Triangle, said the UN Kenya Resident Coordinator Mr. Siddharth Chatterjee.
UN entities involved in this initiative
OHCHR
Office of the United Nations High Commissioner for Human Rights
UNHCR
United Nations High Commissioner for Refugees
UNDP
United Nations Development Programme
FAO
Food and Agriculture Organization of the United Nations
UN Women
United Nations Entity for Gender Equality and the Empowerment of Women
UNAIDS
Joint United Nations Programme on HIV/AIDS
UNFPA
United Nations Population Fund
UNICEF
United Nations Children's Fund
UNODC
United Nations Office on Drugs and Crime
Goals we are supporting through this initiative