UN Kenya Staff Sign Pledge for Zero Tolerance for Sexual Abuse
UN staff in Kenya renew pledge for zero tolerance for sexual abuse and exploitation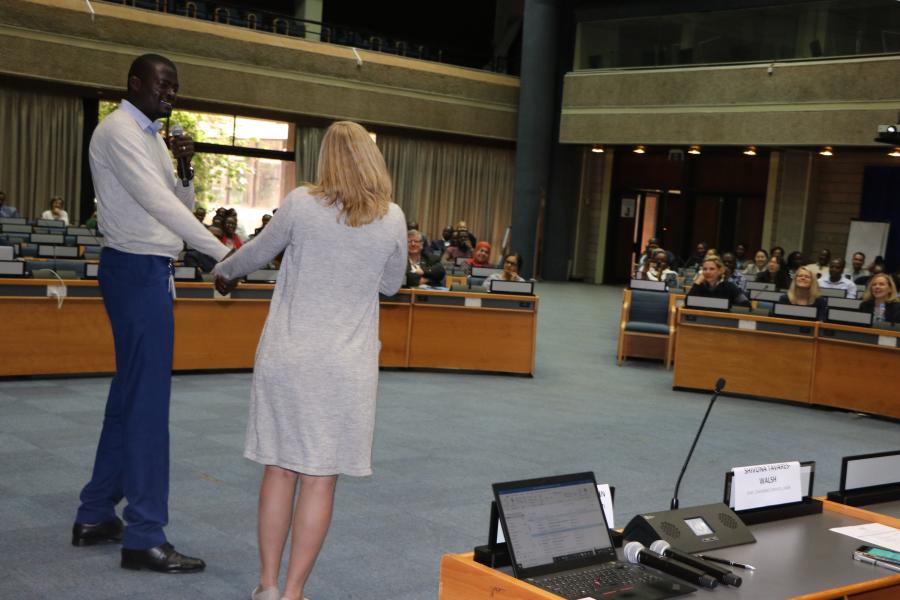 Photo | UN Kenya
UN staff in Kenya on 18 September 2019 held the UN country's first Staff Union Day, an occasion that was used by staff to sign a pledge for zero tolerance for any form of sexual exploitation, harassment and abuse.
The pledge was to demonstrate solidarity with the UN Secretary-General's comprehensive four-pronged strategy to prevent and respond to sexual exploitation and abuse across the United Nations system. Which was issued in March 2017.
The elements of the strategy are to: (a) prioritize the rights and dignity of victims; (b) end impunity through strengthened reporting and investigations, including clarifying limitations on the United Nations to achieve criminal accountability; (c) engage with civil society and external partners; and (d) improve strategic communication for education and transparency. In the implementation of this strategy, the Secretary-General focused on putting the United Nations "own house in order"—putting in place mechanisms under his authority.
The UN Country Team in Kenya established the PSEA Coordination Network brings together PSEA Focal Points from UN Country Offices, Regional Offices and Headquarters with presence in Kenya, and includes representatives from nineteen Agencies and three staff representations/associations. The Network coordinates UN's efforts to address issues on sexual exploitation and abuse in UN duty stations in Kenya specifically with regards to awareness raising, sensitization, training and establishing a joint reporting mechanism.
UN entities involved in this initiative
OHCHR
Office of the United Nations High Commissioner for Human Rights
UNHCR
United Nations High Commissioner for Refugees
OCHA
Office for the Coordination of Humanitarian Affairs
UNDP
United Nations Development Programme
FAO
Food and Agriculture Organization of the United Nations
IFAD
International Fund for Agricultural Development
UN-Habitat
United Nations Human Settlements Programme
ILO
International Labor Organization
IOM
International Organization for Migration
WMO
World Metereological Organization
WHO
World Health Organization
UNEP
United Nations Environment Programme
UN Women
United Nations Entity for Gender Equality and the Empowerment of Women
UNIDO
United Nations Industrial Development Organization
UNAIDS
Joint United Nations Programme on HIV/AIDS
UNESCO
United Nations Educational, Scientific and Cultural Organization
UNFPA
United Nations Population Fund
UNICEF
United Nations Children's Fund
UNDRR
UN Office for Disaster Risk Reduction
UNODC
United Nations Office on Drugs and Crime
UNOPS
United Nations Office for Project Services
UNV
United Nations Volunteers