Story
A Gift of Resilience: 2,250 Galla Goats handed to Taita Taveta farmers.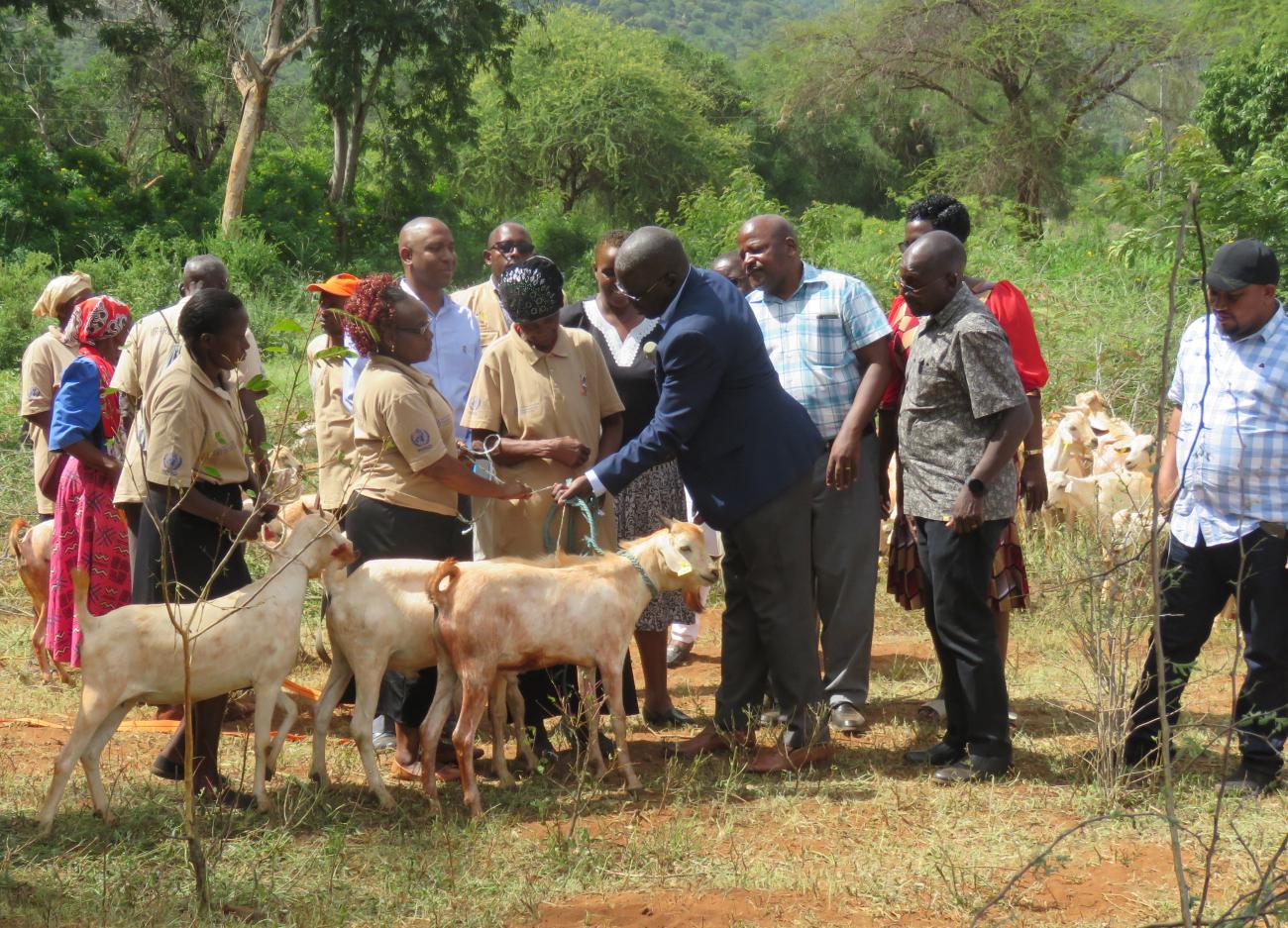 Farmers in Taita Taveta County receive resilient goats for boosted food and nutrition security and enhanced resilience to increasing impacts of climate change.
Taita Taveta County farmers erupted into joyous celebration as they received 2,250 Galla goats from the County Government of Taita Taveta and the Food and Agriculture Organization (FAO. With the goal of empowering farmers and boosting food and nutrition security through milk production, this project could not have come at a better time for Taita Taveta County, which is facing prolonged drought in its arid and semi-arid regions.
The ceremonial handover presided over by Deputy Governor Christine Kilalo and Dr. Barrack Okoba, FAO's team lead for Resilient Food and Livelihood Systems, was a feast for the senses, with farmers breaking into song, ululation, and dance. Senior government officials and local leaders were in attendance.
"I once participated in a chicken auction here some years back. I bought very nice chicken here and went on to become a poultry farmer, stated Dr. Barack Okoba before adding. "I want to come back next year and participate in a Galla goat auction from the stock we are giving today so that, once again, I become a goat farmer."
According to FAO Field Programs Specialist Abedih Mbatha, the farmers chose the value chain through community action planning. The farmers were trained on various value chains and were given the option to choose what they thought would best serve their needs. Goats are the ideal animal for arid and semi-arid regions, being relatively easy to keep, feed, and survive even in harsh conditions.
With Kenya facing one of its worst droughts in recent history, United Nations in Kenya, through agencies like FAO, is collaborating with the Government of Kenya in various initiatives to help farmers and communities cope with the impacts of the drought, including the distribution of drought-resistant crops, resilient livestock breeds like the Galla goats amongst others.
Galla goats, local breeds native to East Africa, are well adapted to the harsh conditions of the Arid and Semi-Arid Lands (ASALs), making them valuable assets for farmers. Additionally, Galla goats have a high twinning rate, which allows their populations to grow quickly and contributes to the food and nutrition security of farmers through milk production. By distributing Galla goats to farmers, FAO is effectively enhancing their resilience to the increasing climate change's impacts and improving their food and livelihood security.
Addressing the farmers at the handover ceremony, Taita Taveta Deputy Governor Christine Kilalo hailed FAO's strategic collaboration towards building the local farmers' resilience to climate change and reaffirmed the County Government's commitment to the same,
"As a county, we have a plan to ensure this county is food sufficient through improved agriculture production. We shall work with partners like FAO, who have been invaluable in ensuring that such resources entrusted to you, like these goats, are given good care to yield milk, meat, and money for you."
Christine Kilalo, Taita Taveta Deputy Governor
The 510 farmers from 22 groups received the Galla goats, aggregated into six clusters based on their location. This allows for the utilisation of male goats for breeding purposes.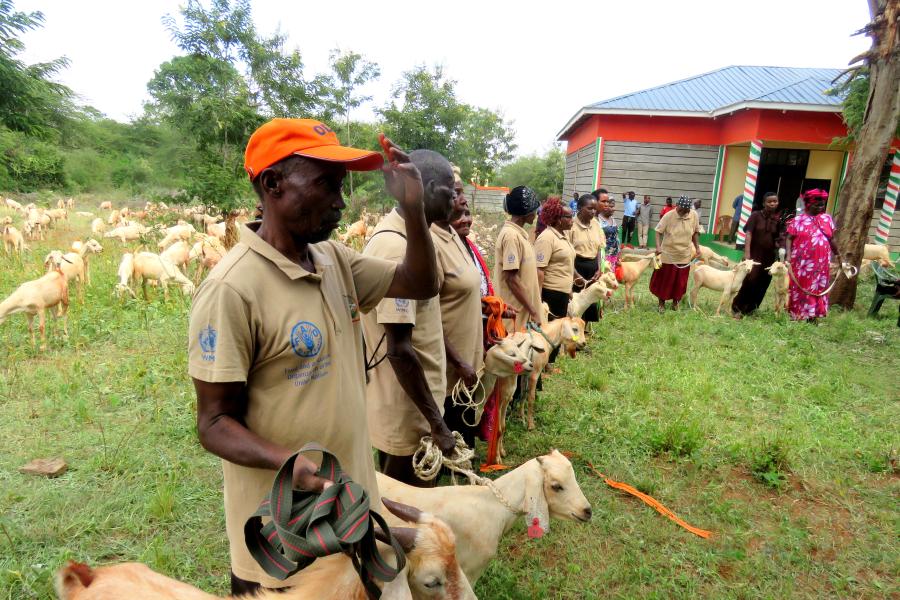 The Galla goats were handed as part of the Agricultural Climate Resilient Enhancement Initiative (ACREI), a project funded by the Adaptation Fund and implemented by the World Meteorological Organization (WMO) in partnership with FAO and the Intergovernmental Authority on Development (IGAD) Climate Prediction and Applications Centre (ICPAC). The project seeks to improve adaptive capacity and resilience to climate variability and change among targeted farmers, agro-pastoralists and pastoralist communities.
UN entities involved in this initiative
FAO
Food and Agriculture Organization of the United Nations
WMO
World Metereological Organization