Story
Young people invent an award-winning eco-toilet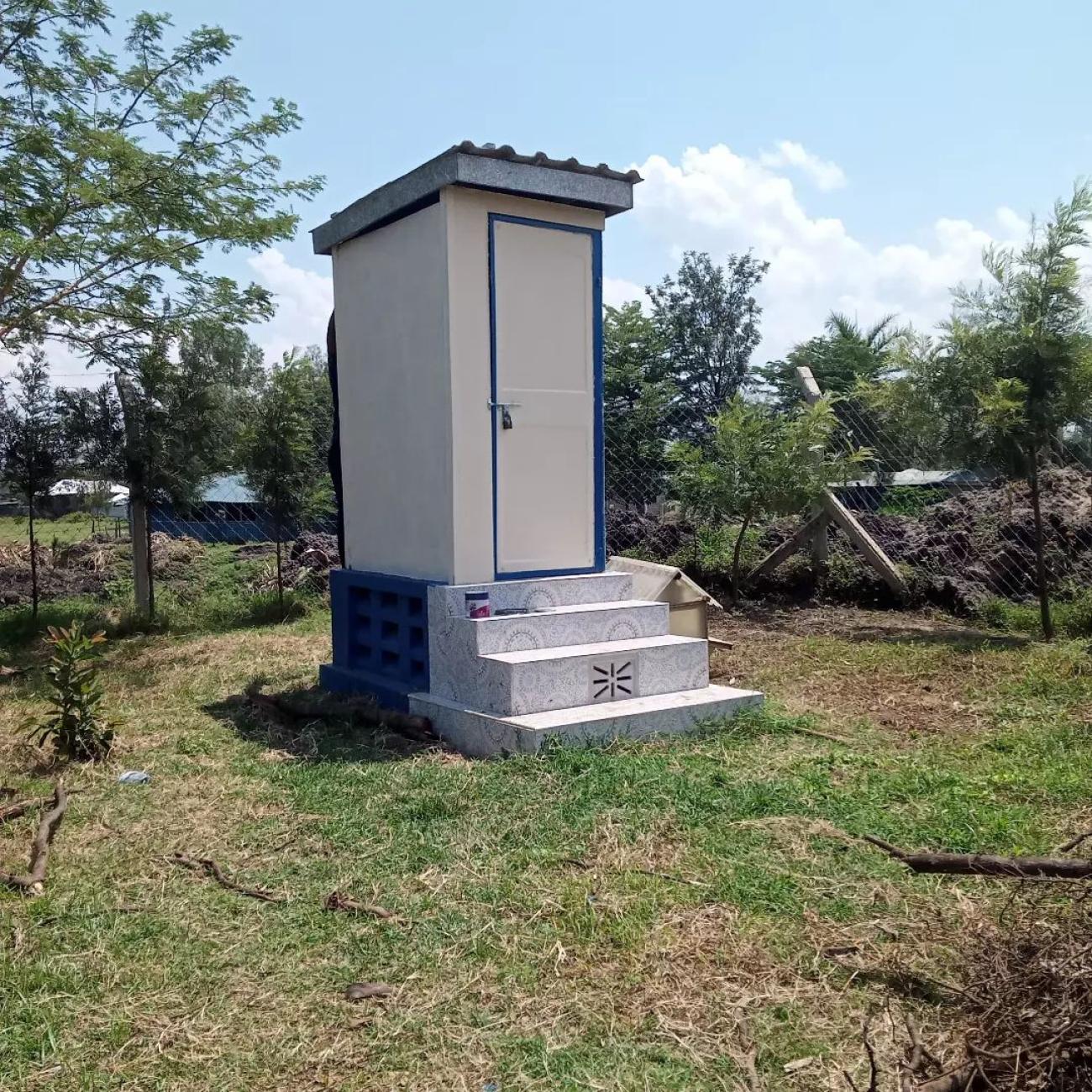 A group of young people in Kisumu who had benefitted from training and seed-funding from United Nations invent an award-winning eco-toilet.
It's a hot and humid morning on John Ochieng's farm on the outskirts of Kisumu town, near a small lagoon. John is a bright and healthy 77-year-old who strides through the fields in bare feet, some of his toenails missing after decades of labour. He enjoys practicing his English. "How are you coping with the atmospheric pressure this morning?" he asks UNICEF, with a twinkle in his eyes.
John collects a bag of manure from young entrepreneurs Chelsea and Steven of Saniwise Technologies. Their company has designed an eco-friendly toilet and sells manure and chicken feed produced as a by-product. John draws some water from a borehole and leads the UNICEF team to a nearby field where he is growing spinach, aubergines, tomatoes and lettuce. He carefully packs some of the manure around a small lettuce in the centre of a hole in the field, then moves onto the next one.
"I met Chelsea and Steven over there by the lagoon," John says, pointing back the way he came. "I was curious about the toilet they had built. They told me that it makes manure and chicken feed, so I bought some samples from them. I like the products – the manure helps my crops grow very green and fruitful. When I gave my chickens the feed, they enjoyed it. It's good to see young people helping themselves."
Saniwise Technologies is a youth-led organization that develops sustainable and innovative toilets to improve public health and reduce environmental impact. The company has developed a toilet design that uses black soldier fly larvae to break down solid waste and create manure that is suitable for using on farms like John's. Their toilets are made mainly from recycled materials, including plastic waste and tetra packs, and are well-ventilated to provide a pleasant experience for users.
Toilet prototype
Behind the Saniwise office is a prototype toilet, spotlessly clean and painted blue and yellow, which Marketing Manager Chelsea Johannes, 22, demonstrates to UNICEF. "This is the black soldier fly larvae," she says, pointing to several white grubs in the toilet pan. "They're digesting the waste. You can see that it already looks more like soil. In four days' time, it will be ready to sell as manure."
Chelsea says that she got the idea for the toilet from growing up in an informal settlement with poor sanitation, leading to high rates of diarrhoeal diseases among children, who also miss school as a result.
"Having been brought up by a single mum in a low-income area, I understand the challenges," she says. "Toilets are hard to maintain, and no-one wants to contribute money to empty them properly. That's one of the reasons we set up Saniwise. My mum helped me and now I want to do something to help back. I'm excited that we're getting to actualise our dream."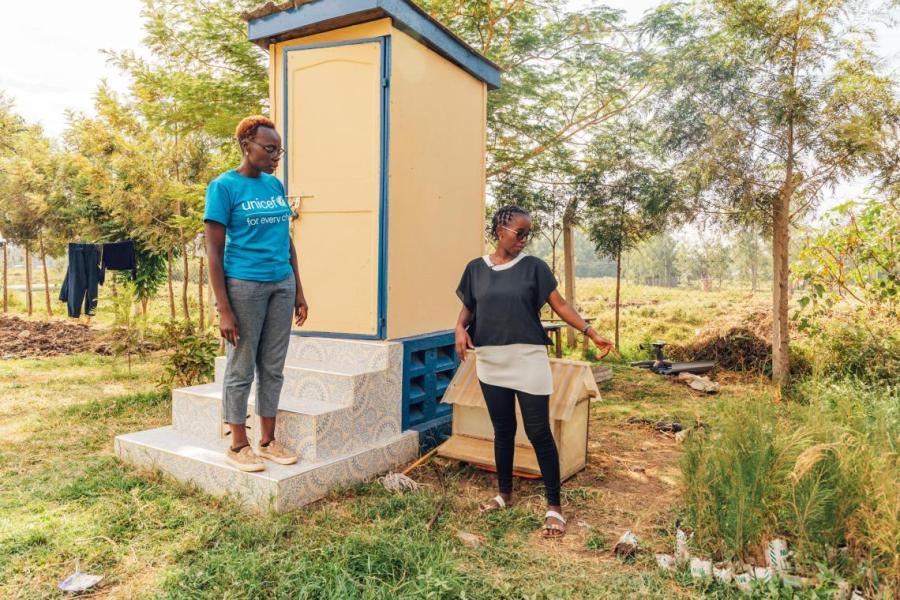 Youth marketplace
The Saniwise team has benefitted from UNICEF-supported training and seed funding, through both Generation Unlimited (GenU) and the Youth Agency Marketplace (Yoma).
Generation Unlimited is a multi-sector partnership which aims to see more than 30 million young Kenyans in education, training or employment by 2030. As part of promoting young people's creativity, GenU runs an annual youth challenge – now called imaGen Ventures – which targets youth groups with innovative ideas. This includes boot camps, where participants gain business skills, and seed funding for the winning teams to implement their ideas.
The Youth Agency Marketplace (Yoma), meanwhile, is a digital marketplace that helps young people boost their employability by completing personalised online training courses, taking part in challenges and community activities, and connecting with potential employers. As they complete tasks, they are rewarded with digital tokens that can be swapped for goods or services, and their successes are recorded on a digital CV, that they can share with potential employers.
"Yoma is a bit like a LinkedIn for young people," says UNICEF Kenya Technology for Development Officer Brian Keya Elahalwa. "Youth account for 60 percent of all unemployed people in Africa. Yoma and GenU respond to this by opening up opportunities for all young people, not just the better off. The platform offers pathways from learning to earning that build young people's skills and connect them to jobs or entrepreneurship opportunities."
Vocational skills
In partnership with the Ministry of ICT, Innovation and Youth Affairs, UNICEF is rolling out Yoma through local youth centres across Kenya, which already provide free Internet for unemployed young people. One of these centres is in Konoin, Bomet County, high up in the hills above Kisumu and surrounded by lush green tea plantations. The centre has two computer rooms and a recreation area, where young people can chat or play pool and darts. The pool table is old and needs propping up under one leg but still works. One of the young people, Nicholas Rono, lines up a shot and pockets a coloured ball in the far corner, while Konion Youth Office Mike Jassor looks on.
"Young people face many challenges these days, like alcohol and drug abuse, but the number one challenge is the lack of employment opportunities," Mike comments. "Yoma has been very critical for us. It helped us train 40 young people on the fundamentals of digital marketing. UNICEF came and taught us how to use the platform. They also provided reimbursements and helped us with technical challenges. The young people really appreciated the training. I believe that they are a potential gold mine lying there for employers."
Saniwise Operations Manager Steven Ochieng, 23, also took part in the Yoma training on digital marketing at a similar youth centre in Kisumu. This gave him essential skills to help promote the business online. "Before Yoma, we were not that active on social media, which was a great concern to us," he explains. "People would hear the name Saniwise, but they didn't actually know what we do."
Steven says that a key benefit of the training was that it was offered free of charge by the STEM Impact Centre, removing a barrier for many young people. "I really enjoyed the training. I learned about graphic design and digital marketing. I used the skills to produce our company profile and posters for our digital platforms. From this, we've had inquiries from people in the community who wants to adopt our toilet. It's brought us exposure to the market."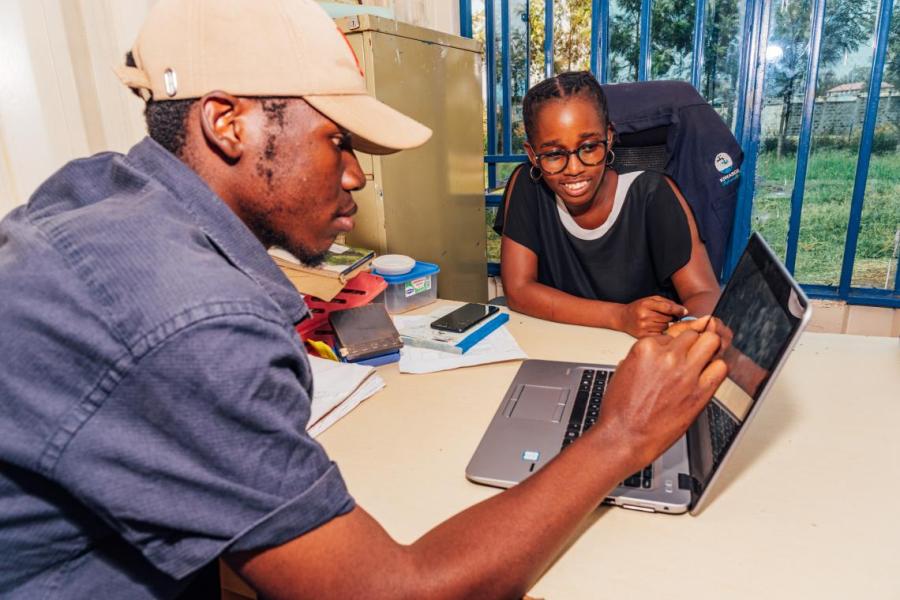 Participating in the Generation Unlimited challenge has also helped Saniwise expand their business. During the bootcamp, the young team formalized their products, registered the business, learned financial planning and honed their investment pitches. These efforts paid off, as Saniwise went on to compete in the global GenU competition, ultimately winning second place overall and around 1.2 million Kenya shillings in seed funding.
"The GenU bootcamp was very engaging and it was fun learning from each other," Chelsea comments. "We were excited to be one of the global winners and will use the seed funding this year to construct and install more toilets, including in the nearby informal settlements."
UN entities involved in this initiative
UNICEF
United Nations Children's Fund