UN Deputy Secretary General Statement During the Launch of the Kenya Generation Unlimited (GEN U) Initiative
Statement read on behalf of UN Deputy Secretary General Ms. Amina Mohammed by UN Kenya Resident Coordinator Siddharth Chatterjee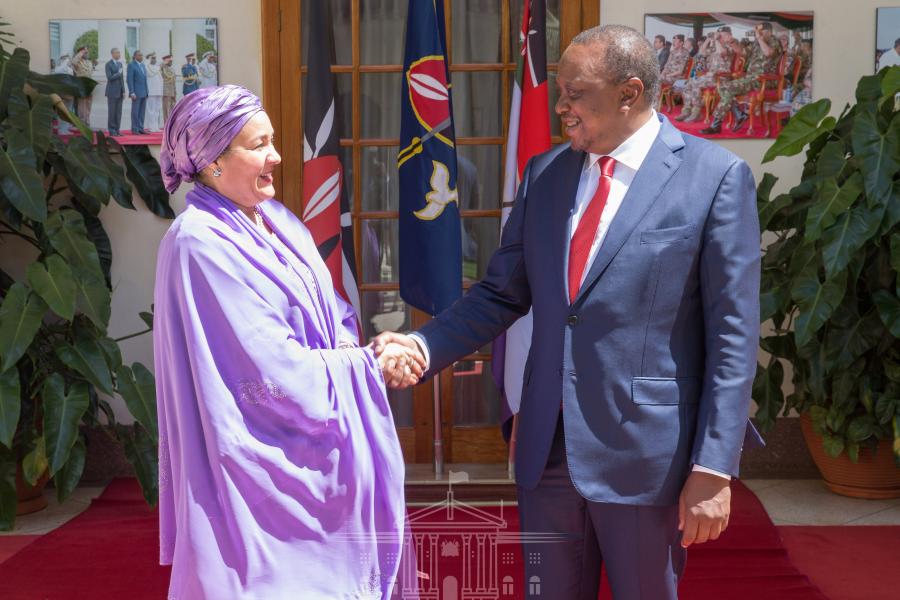 Photo | Statehouse Kenya
Your Excellency President Kenyatta,
On behalf of the United Nations family, I salute and congratulate your Government and the people of Kenya on the launch of the Kenyan Chapter of Generation Unlimited. The UN deeply appreciates your significant role in achieving this milestone.
I am aware of your personal passion for the youth agenda, and I remember that you attended, together with the First Lady, the launch of the United Nations Youth 2030 and Generation Unlimited partnership in New York in 2018. It is for this commitment that you were unanimously endorsed as the global Champion of the Young People's Agenda.
Kenya was one of the first countries to embrace that partnership, a sign that your Government could, even in those early days, already see that young people constitute a tremendous and essential asset worth investing in, an asset with an unparalleled multiplier effect.
Almost nine in ten young people live in developing countries and the world today is home to the largest generation of young people in history. But in a world that is connected like never before, the aspirations, fears and ambitions of young people are largely similar. The common theme is that they all want to be heard and to be involved in driving social, economic and political progress in their countries.
When we listen to them, we will hear them telling us about the incredible challenges and even life-threatening risks that they face. They have challenges when accessing their rights, including to quality education, health care or decent work.
The Generation Unlimited movement and the United Nations' Youth Strategy aim to strengthen and increase commitments at the global, regional and national level to meet young people's needs, help them realize their rights, and recognize their positive contributions as agents of change.
The Sustainable Development Goals can only be achieved if all of us from both the public and private sectors empower young people as leaders and enable them to unleash their full potential.
I am pleased to note that the UN Country Team in Kenya is working closely with your Ministries and Agencies in a multi-sector Youth Working Group to implement the UN Development Assistance Framework. This is testimony to your Government's belief that young people are an untapped reservoir of potential for the achievement of the Big Four Agenda, the SDGs as well as Kenya's Vision 2030.
We must harness the demographic dividend that looms in the horizon. By 2050, when Africa's population reaches 2.3 billion, we will have 850 million young people in the continent. I am confident that Kenya can lead the way and serve as a blueprint for the rest of the continent. Generation Unlimited underpins the demographic dividend
On behalf of the UN Secretary-General and the entire UN family, I assure you of our fullest support for the activities of Generation Unlimited in Kenya and once again congratulate you and the people of Kenya on this momentous occasion.
UN entities involved in this initiative