Story
Government of Kenya and the United Nations to step up efforts to advance education, training and jobs for millions of young people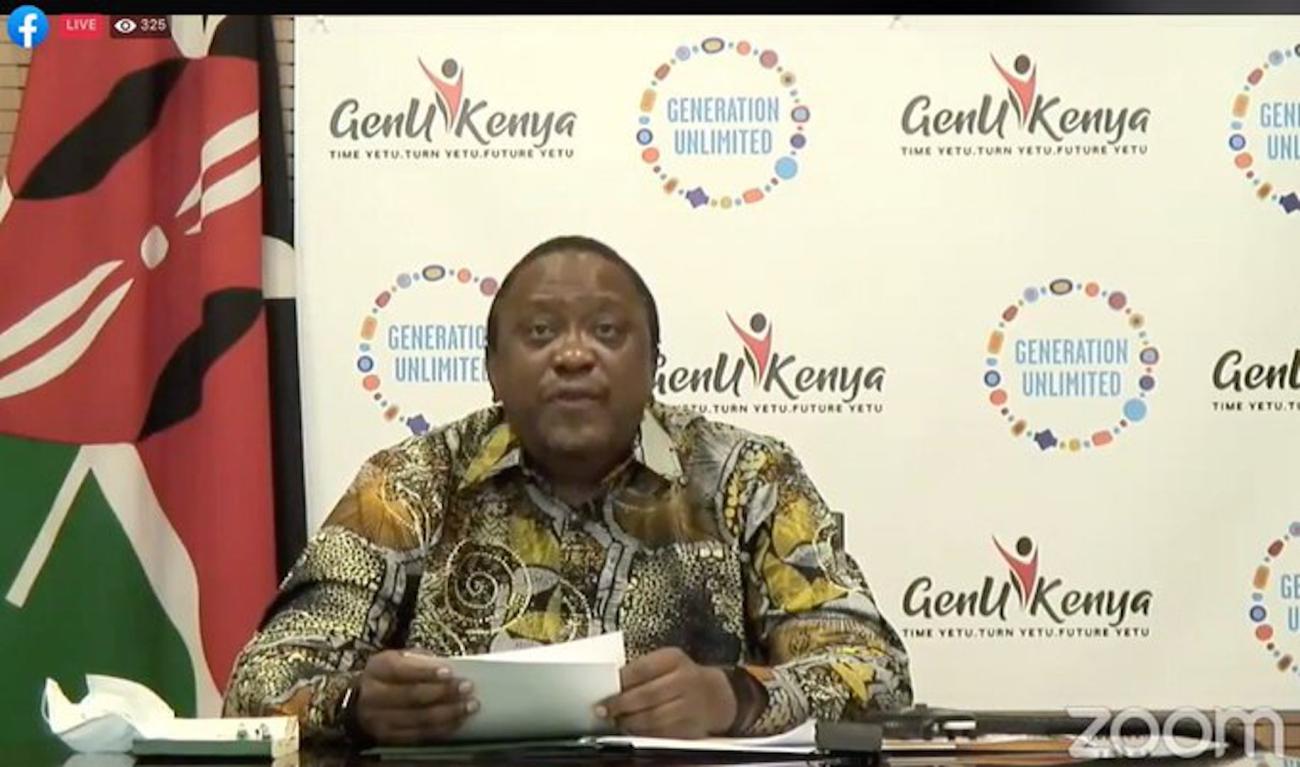 Government officially launches Generation Unlimited Partnership in Kenya
A visionary new multi-sector partnership designed to see more than 30 million young Kenyans in education, training or employment by 2030 has been officially launched by the Government, in partnership with the United Nations and other multi-stakeholder partners.
Generation Unlimited (GenU) is a global partnership designed to equip young people between the ages of 10 and 24 – who make up more than three in five (63 per cent) of Kenya's population – with the skills they need to thrive in society and the world of work.
"Our youth are our nation's greatest resource. I recognized from the very beginning of my administration that this generation of young people has the potential to expand Kenya's and Africa's productive workforce and turn Africa into a frontier of growth and innovation," said His Excellency the President of Kenya, Uhuru Kenyatta. "By offering all young people opportunity, we will boost our economy, increase the wellbeing of families across the country, and help meet the United Nations' Sustainable Development Goals."  He added.
The GenU programme aims to help young people successfully transition from primary to secondary school and then on to University. It also focuses on nurturing entrepreneurship and promoting equitable access to employment opportunities, including during the COVID-19 pandemic.   
HE President Uhuru Kenyatta's development agenda aligns very closely with the Young People's Agenda.  In his speech during the International Youth Day 2019 the President said "Given my position as a Global Leader for Young People's Agenda, I affirm my commitment to ensure our youth realize their full potential and participate effectively in the advancement of the social, economic and political agenda of our Nation".  Specifically, the President is committed to education and has committed over 25% of the national budget to the sector. In addition, from 2018 the President advocated for 100% transition to secondary school and curriculum reforms to competency-based skills.
Kenya's GenU secretariat is hosted at the Executive Office of the President, who was endorsed as global Champion of the Young People's Agenda at the UN General Assembly in 2018. In 2019 he joined 11 world leaders including the UN Secretary General, HE President Paul Kagame of Rwanda, and former Prime UK Minister Gordon Brown in the Generation Unlimited Leaders group.
Kenya's GenU programme will forge new opportunities by working with a wide range of partners – from young people themselves, development organizations to international finance institutions. 
The GenU Kenya multi-stakeholder partnership of young people, government, private sector, development partners, youth organizations/ civil society and financing organizations will work together to: - i) Initiate innovative solutions to the challenges in access to quality education, skills training, employment and entrepreneurship; ii) Accelerate scalable initiatives and good practices to achieve the vision of GenU Kenya and the global objectives iii) Remove Bottlenecks/ Barriers especially for vulnerable young people and co-create with young people as active problem solvers and key stakeholders.
GenU Kenya partnership has already identified some programmes and best practice for acceleration and scaling up practice including:
Competency Based Education and Training (CBC/ CBET) – This Kenya Government education reform program is expected to introduce a new educational focus that aims to ensure wide-scale provision of relevant skills and high-quality human resource for Kenya's development.
The Kenya Youth Employment and Opportunity Project (KYEOP) implemented by the Government and the World Bank, in partnership with the private sector, aims at increasing employment and earning opportunities for youth aged between 18-29 years through various skills training and entrepreneurship support.  The identified as scalable best practice.
Wings to Fly - The Wings to Fly scholarship program, an initiative of the Equity Group and Mastercard Foundation (MCF), supports secondary education for top performing children from financially challenged backgrounds. The program's Leadership development and mentorship model has been identifying as best practice that can be scaled up for all secondary and tertiary level students.
KCB 2Jiajiri - 2jiajiri is a program of the KCB foundation that addresses the problem of youth unemployment by creating jobs for the youth through skill development and vocational scholarships. The Tujiajiri model combines training and start up financing to help support small businesses and encourage entrepreneurship and has been identified as scalable best practise.
Dual Learning Model as practiced by the Rift Valley Technical Training Institute (RVTTI) which supports formal school experiences in technical education for Kenyan youth as it provides workshops that are fitted with adequate modern equipment and has dual training linkages with industry.
The AJIRA Digital Platform set up by the Government and partners in 2017, to empower over one million young people to access digital job opportunities. The Youth Portal supports formalization and stimulation of entrepreneurs through a system that can support entrepreneurs and link them to opportunities while tracking skills development.
Upgrading Youth Empowerment Centres (YEC)  to one stop shop Centres as an avenue for Kenyan youngsters to access various government programs and opportunities tailored for them.
The private sector and development partners are already implementing key programmes that significantly impact education, training and employment. There is indeed a strong private sector presence in education, agribusiness and the entrepreneurship/employment eco-system that will contribute greatly to achievement of the ambitious GenU Kenya goal and Kenya's development aspirations.
In her congratulatory message to H.E. President Kenyatta, the United Nations Deputy Secretary General, Amina J. Mohammed acknowledged the good partnership between the UN Country Team in Kenya and the government Ministries and Agencies in a multi-sector Youth Working Group to implement the UN Development Assistance Framework, hailing it a testimony to the Government's belief that young people are an untapped reservoir of potential for the achievement of the Big Four Agenda, the SDGs as well as Kenya's Vision 2030.
UN entities involved in this initiative
UNICEF
United Nations Children's Fund